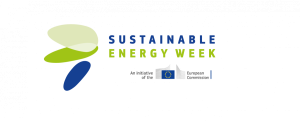 EUCalc was present at the EU Sustainable Energy Week (EUSEW 2019)
on Thursday June 20th in Brussels with a talk on:
"Shaping Europe's energy future; what pathway would you choose for the EU to get to net zero?"
.
Presented by EUCalc lead Jürgen Kropp of PIK
the event was also the
perfect opportunity for Michel Cornet of Climact to give a "sneak peek" of the live tool being developed.
Presentations delivered on the day, including two policy briefs and the EUCalc Promotional postcard (feel free to share it!) can be found below.
About EUSEW 2019
The Policy Conference is the biggest European conference dedicated to renewables and efficient energy use in Europe. Sessions organised by the European Commission and energy stakeholders focus on sustainable energy issues, debate new policy developments, best practices and sustainable energy ideas. Next to the conference, the Networking Village brings the EUSEW Community together to forge alliances whilst the EUSEW Awards celebrate outstanding projects and ideas. For more information, see the
conference website
.